While I don't write in either genre, I recently started listening to the Science Fiction and Fantasy Marketing podcast. The three hosts combined have a good mix of experience, as they've self-published, won awards, and had books traditionally published.
This particular episode grew from a snafu. The hosts planned an interview with Nate Hoffelder (of The Digital Reader blog) about recent publishing news. Some tech issues cut that short and made it hard to hear. So the hosts added a first segment where two of them  talked about their recent book launches.
SFFMP 137: Launching Books That Aren't "to Market," Agency Pricing, and Are Ebook Sales Down?
I loved that because they covered the challenges of marketing books that don't fit perfectly in the more typical genres and sub-genres.
Other topics in this episode included:
ebook pricing
payments to authors for pages read of books in Kindle Unlimited
KU scams
ebook subscription services
the pluses and minuses of paperback and audiobook publishing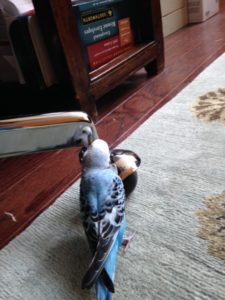 The Nate Hoffelder segment is a bit hard to decipher in spots. Also, I found his cockatiel chiming in a little distracting, despite myself being the proud owner of a very cute bird, parakeet Joss Whedon, shown here admiring himself–I mean, inspecting the chair leg in my office.
If you're short on time, you may be tempted to skip that second segment. If you can fit it in while dealing with dishes or laundry or jogging, though, it's worth it.
Until Sunday, when I'll share my experiences using Scrivener to write non-fiction–
Best,
L.M. Lilly